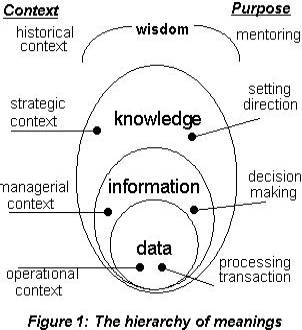 Seven spiritual laws of successful knowledge management, by Marcus Speh Birkenkrahe [1. The Law of Unity; 2. The Law of Giving; 3. The Law of Cause and Effect; 4. The Law of Least Effort; 5. The Law of Intention and Desire; 6. The Law of Detachment; 7. The Law of Purpose in Life]


Are There Laws of Knowledge Management? by Stephen Denning, Michel Pommier and Lesley Shneier. [1. Knowledge sharing is essential to economic survival; 2. Communities of practice are the heart and soul of knowledge sharing; 3. Virtual community members also need physical interactions; 4. Passion is the driving force behind communities of practice; 5. Communities enrich organizations and personal lives; 6. Knowledge sharing has inside-out and outside-in dynamic.


These six "laws" of knowledge management

have three corollaries which are found across a very large number of organizations: Knowledge sharing is at some point confused with IT; Middle-management resists; Vibrant communities of practice attract new talents]



Five Laws of KM, by
Inspired by Dr.S.R.Ranganathan!



Knowledge is for use;
Every bit of knowledge its user;
Every user his/her bit of knowledge;
Users time is precious;
Knowledge and knowledge centres are growing organisms.

RANGANATHAN REVISITED: FACETS FOR THE FUTURE,

ISKO UK meeting: Connecting communities: Content, knowledge, information: Same Difference?